Virtual Tour Prices
We Offer You A Self-Service Platform To Easily Catch Your Customers' Attention!
Stunning Virtual Tour Products
Lead Generation Marketing Tools
Full Platform Management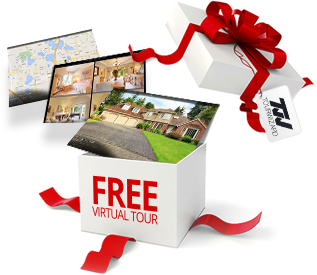 First Virtual Tour On The House!
Create now your FREE VIRTUAL TOUR.
Enjoy all the Virtual Tour Features and market your listing today!
Platform Prices for Photographers
Pay as you go!
Active: 2 years
Full Virtual Tour Management
Full Client Management
Full access to all features
No Contracts & No Sign-Up fees
Team photographer accounts
Syndication
Statistics
Request a PHOTOGRAPHER Account
MONTHLY MEMBERSHIPS (Agents only)
These prices apply only to real estate agents / realtors. If you are a brokerage / agency, please contact us for a price offer.
$29.98
per month
Regular price $39.98 per month
STANDARD
Monthly Membership
Up to 5 Active Virtual Tours
White label URL
YouTube Videos from photos
Video posting to custom YouTube Channel
Branded, unbranded and MLS compliant links
Social Syndication
360 views system
Matterport & iGuide integration
Custom pages and external pages integration
Complete Seller's report
Brochures
Portfolio Website
Color customization
Email leads
Single monthly payment
Full Platform Management
Upgrade at any time
$49.98
per month
Regular price $69.98 per month
PREMIUM
Monthly Membership
Up to 10 Active Virtual Tours
White label URL
YouTube Videos from photos
Video posting to custom YouTube Channel
Branded, unbranded and MLS compliant links
Social Syndication
360 views system
Matterport & iGuide integration
Custom pages and external pages integration
Complete Seller's report
Brochures
Portfolio Website
Color customization
Email leads
Single monthly payment
Full Platform Management
Upgrade/downgrade at any time
$59.98
per month
Regular price $89.98 per month
PRO
Monthly Membership
UNLIMITED Active Virtual Tours
White label URL
YouTube Videos from photos
Video posting to custom YouTube Channel
Branded, unbranded and MLS compliant links
Social Syndication
360 views system
Matterport & iGuide integration
Custom pages and external pages integration
Complete Seller's report
Brochures
Portfolio Website
Color customization
Email leads
Single monthly payment
Full Platform Management
Downgrade at any time
CREATE AN AGENT ACCOUNT
Engage Prospects Like Never Before With These Amazing Virtual Tour Features
Interactive Full-Screen Virtual Tours
Search Engine Optimized & Mobile ready
Compatible with all modern browsers
Extended Property Information System
Multiple Photo Galleries
FREE Background Music
Automated QR Codes
Maps, Amenities & Street View
Spherical & Cylindrical Panoramas with Hotspots
Open House Schedule
Videos & YouTube Linkage
Impressive Agent Branding
Branded, Non-branded, Compliant and Standalone Tour Versions
Contact Form & Email Lead System
Virtual Tour Attachments
In-depth Traffic Tracking